Pick of The Week
UPDATE: Venus Heading for Transit (June 5, 2012)
IMAGES AND MOVIES FROM EIT (June 5)
IMAGES AND MOVIES FROM LASCO (June 1 - June 5)
Venus Heading for Transit (June 1, 2012)
June 1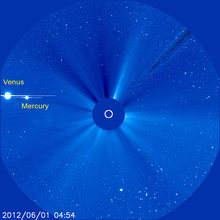 Hi-res TIF (2.7M)
Venus appeared just as expected (June 1, 2012) in the field of view of SOHO's wider field coronagraph (C3). It will cross in front of the Sun (called a transit) as seen from Earth on June 5-6. It is moving from left to right. The other bright, less bright, object moving right to left is Mercury. With coronagraphs, the Sun is being blocked by an occulting disk, seen here in blue, so that SOHO can observe the much fainter features in the Sun's corona. The actual size of the Sun is represented by the white disk. The entire field of view is 30 solar radii. We will be posting a movie and still per day showing its approach until the transit.
More information about the expected orbit of Venus can be found here .
SOHO began its Weekly Pick some time after sending a weekly image or video clip to the American Museum of Natural History (Rose Center) in New York City. There, the SOHO Weekly Pick is displayed with some annotations on a large plasma display.
If your institution would also like to receive the same Weekly Pick from us for display (usually in Photoshop or QuickTime format), please send your inquiry to steele.hill@gsfc.nasa.gov.