Pick of The Week
Recent Blast Impacts Earth (October 28, 2011)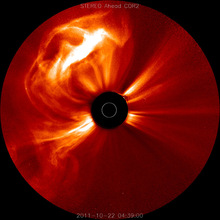 Hi-res TIF image (4.4M)
Movies
Quicktime: Large ( 26M), Medium (7.3M), Small (344K).
MPEG: MP4 (2.9M), M4V (2.1M)
A substantial coronal mass ejection (CME) erupted from the Sun early on Oct. 22, traveled across space at a good clip, and impacted Earth on Oct. 24, 2011, causing brilliant auroras across much of the world. In the U.S., aurora reached as far as far south as Alabama.
The video clip from STEREO Ahead spacecraft (orbiting about the Sun, more than 90 degrees ahead of Earth) shows the large, Earth-directed CME cloud erupting early on Oct. 22. Earth is out of the frame but roughly to the left in the images shown. Several other CMEs followed over the next day and a half. In these coronagraph images the Sun is represented by the white circle and the black disk is blocking out the coronal area close to the Sun, so that the fainter structures beyond that can be seen.
SOHO began its Weekly Pick some time after sending a weekly image or video clip to the American Museum of Natural History (Rose Center) in New York City. There, the SOHO Weekly Pick is displayed with some annotations on a large plasma display.
If your institution would also like to receive the same Weekly Pick from us for display (usually in Photoshop or QuickTime format), please send your inquiry to steele.hill@gsfc.nasa.gov.