Pick of The Week
Sunspot numbers - a slippery slope down (June 26, 2003)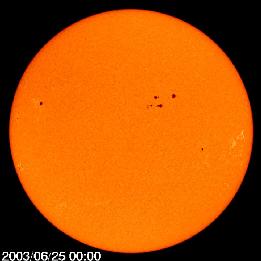 Hi-res TIF image (2.0M)
Here is a movie showing a scattering of sunspots over a recent 10-day period (June 16-25, 2003). Sunspots are areas of more intense magnetic activity that appear darker and are cooler than the rest of the Sun's surface. Note that one earlier group almost disappears over the course of a few days, while towards the end of the clip a group in the upper half emerges and grows fairly significantly. Spots can last from hours to months. They are the most obvious, visible manifestation of strong magnetic fields in the Sun's atmosphere, and the energy contained in those fields drives solar weather.

As reported last September the number of sunspots had begun slowly to recede again, as we move away from the solar maximum period of peak activity for this 11-year solar cycle. And the numbers continues to decline. Scientists track solar cycles by counting sunspots and this solar cycle reached its peak level in July 2000. Since then, the number of sunspots and general solar activity has generally declined. Inevitably, the number of sunspots will follow a declining path until the numbers bottom out, sometime around 2006. The assorted groups of sunspots seen here show that the action is far from over!

SOHO began its Weekly Pick some time after sending a weekly image or video clip to the American Museum of Natural History (Rose Center) in New York City. There, the SOHO Weekly Pick is displayed with some annotations on a large plasma display.

If your institution would also like to receive the same Weekly Pick from us for display (usually in Photoshop or QuickTime format), please send your inquiry to steele.hill@gsfc.nasa.gov.
\