Pick of The Week
Now you see it, now you don't (February 26, 2010)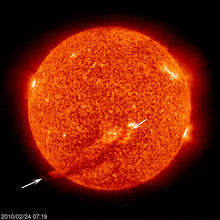 Hi-res TIF image (3.3M)

Quicktime Movie: Large (7.0M), Small (1.1M)
MPEG Movie (3.5M)

SOHO has been watching in extreme UV wavelength as a very long, magnetic filament (approaching one million km), quickly disappeared (Feb. 20-25, 2010). Filaments are notoriously unstable and often become untethered and erupt, with some of the filamentary material getting blasted into space. And it happened again. The SOHO C2 coronagraph shows a coronal mass ejection cloud billowing away near where the filament was at 17:54 UT on Feb. 24 and the filament is gone by the next extreme UV frame taken an hour later. The still image was slightly enhanced to better define the filament and its length. Filaments are clouds of gas suspended above the surface of the Sun by magnetic forces. Since filaments are slightly cooler than the Sun's surface, they appear somewhat darker.
SOHO began its Weekly Pick some time after sending a weekly image or video clip to the American Museum of Natural History (Rose Center) in New York City. There, the SOHO Weekly Pick is displayed with some annotations on a large plasma display.
If your institution would also like to receive the same Weekly Pick from us for display (usually in Photoshop or QuickTime format), please send your inquiry to steele.hill@gsfc.nasa.gov.