Pick of The Week
Triple Play (April 23, 2003)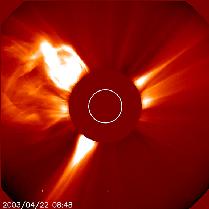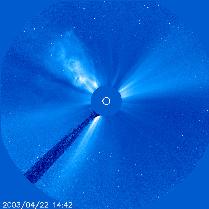 Movies

Within less than five hours, no less than three coronal mass ejections (CMEs) blasted away from the Sun on April 22, 2003. In the LASCO C2 coronagraph frames, the first CME, from the far side of the Sun, appears to be heading due north. The second and third more powerful CMEs appear almost simultaneously at 7:36 UT, not long after the first has disappeared from its field of view. In some of the frames of the C3 coronagraph, with its wider field of view (30 solar radii), one can see all three CMEs expanding into the heliosphere. The Sun has been producing very few CMEs of late as its activity level continues to decline in general, so this burst of activity was somewhat of an unexpected surprise.

SOHO began its Weekly Pick some time after sending a weekly image or video clip to the American Museum of Natural History (Rose Center) in New York City. There, the SOHO Weekly Pick is displayed with some annotations on a large plasma display.

If your institution would also like to receive the same Weekly Pick from us for display (usually in Photoshop or QuickTime format), please send your inquiry to steele.hill@gsfc.nasa.gov.
\