Pick of The Week
Streaming Eruption (October 19, 2012)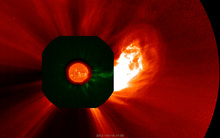 Hi-res TIF (3.4M)
Movies: QT (large) (9.6M), QT (small) (901K), MPEG ( 14M), MP4 (2.5M), M4V (829K)
The STEREO (Ahead) spacecraft instruments caught this spectacular prominence eruption that occurred early on Oct 14, 2012. The disk of the Sun (here in orange) is imaged in extreme UV light, and the white light corona, in green and red-orange, by three of the five SECCHI imaging telescopes on that spacecraft. The video shows the event leaving the Sun and then the particle cloud spreading out into space over 19 hours. The active region responsible for this eruption will soon be rotating onto the side of the Sun facing Earth and may undergo further eruptions, which could affect Earth.
SOHO began its Weekly Pick some time after sending a weekly image or video clip to the American Museum of Natural History (Rose Center) in New York City. There, the SOHO Weekly Pick is displayed with some annotations on a large plasma display.
If your institution would also like to receive the same Weekly Pick from us for display (usually in Photoshop or QuickTime format), please send your inquiry to steele.hill@gsfc.nasa.gov.