Pick of The Week
Comparisons Across Time (August 17, 2005)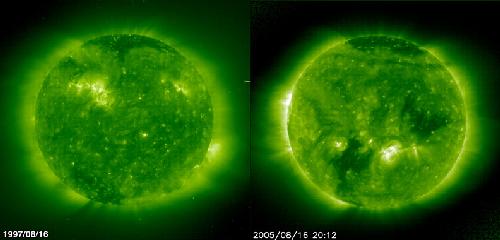 Hi-res TIF image (3.0M)
Movies:
MPEG: Large (2.4M), Small (768K)
Quicktime: Large (654K), Small (139K)
The peak of activity of the current 11-year solar cycle (called solar maximum) occurred sometime in 2001, which means that we are about four years beyond solar maximum and approaching solar minimum as of August 16, 2005. We thought it would be enlightening to look back at images from four years before solar maximum in August 1997 to see if they were roughly similar. You know what? They are.

Both side-by-side stills in extreme ultraviolet light show about one active region with one other smallish active region (which appear as whiter areas) with an overall quiet look about the Sun. The video clip shows comparisons in two other wavelengths of light from the EIT instrument on SOHO with the same general sense of similarity. The general downward trend towards less activity will continue until sometime around late 2006 or so when the cycle will reach its minimum; after that it will begin its climb again towards greater activity. It all just goes to prove the old adage that the more things change, the more they remain the same.

Please visit our Newsroom for press releases and media coverage.

SOHO began its Weekly Pick some time after sending a weekly image or video clip to the American Museum of Natural History (Rose Center) in New York City. There, the SOHO Weekly Pick is displayed with some annotations on a large plasma display.

If your institution would also like to receive the same Weekly Pick from us for display (usually in Photoshop or QuickTime format), please send your inquiry to steele.hill@gsfc.nasa.gov.
\