Pick of The Week
No separation anxiety for STEREO (Aug 15, 2008)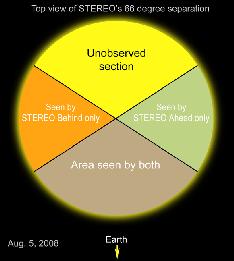 Hi-res TIF image (612K)

MPEG Movie: Large (6.1M)
Quicktime Movie: Large (5.8M), Small (736K)

The two STEREO spacecraft (Ahead and Behind) continue to separate, by orbit design, so that they are 66 degrees apart from each other as of August 5, 2008. This allows them to see more and more of the Sun at the same time. The Behind spacecraft can see 31 degrees more of the Sun than can be seen from Earth. The Sun rotates on its axis about every 27 days which means Behind can see features almost 2.5 days before they come into view from the direction of Earth. Talk about sneak previews!
The Ahead spacecraft can follow features on the Sun for 36 degrees after SOHO, which is relatively close to Earth, would lose sight of them. The two views shown consecutively in the video clip were taken in extreme UV light at the same time. A coronal hole, which appears darker than the rest of the Sun, was the Sun's most distinguishing feature that day. Scientists can measure differences in the solar wind at Earth when one of those is on the western side of the Sun as seen from Earth. When the two spacecraft are 180 degrees apart in 2011, we will for the first time directly observe the entire Sun at the same time.
SOHO began its Weekly Pick some time after sending a weekly image or video clip to the American Museum of Natural History (Rose Center) in New York City. There, the SOHO Weekly Pick is displayed with some annotations on a large plasma display.
If your institution would also like to receive the same Weekly Pick from us for display (usually in Photoshop or QuickTime format), please send your inquiry to steele.hill@gsfc.nasa.gov.