Pick of The Week
An X-Flare, and More (June 13, 2003)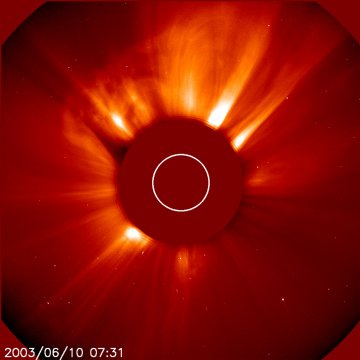 Hi-res TIF image (3.0M)
Movies
Quicktime

For a 30-hour period this week (June 9-10, 2003), at least one X-flare (the strongest category), several M-flares (next strongest), and a number of coronal mass ejections erupted on the Sun (April 25-27, 2003). The still image from the LASCO C2 coronagraph shows two almost simultaneous solar storms as they are blasting away from the Sun. The movie shows that the last and largest storm is a "halo" CME, so called because the front seems to move away from the Sun in all directions, hence the halo name. This storm was determined to have occurred on the far side of the Sun so it headed directly away from earth into space.

And doubtless some eagle-eye observers will notice the white dot that moves from the lower right edge (first seen in frame June 10 06:03) careens up half way towards the Sun before it disappears. That is a comet, probably from the Kreutz family of sun-grazing comets. It is not uncommon for SOHO to see comets like this one heading towards the Sun where they usually disintegrate.

SOHO began its Weekly Pick some time after sending a weekly image or video clip to the American Museum of Natural History (Rose Center) in New York City. There, the SOHO Weekly Pick is displayed with some annotations on a large plasma display.

If your institution would also like to receive the same Weekly Pick from us for display (usually in Photoshop or QuickTime format), please send your inquiry to steele.hill@gsfc.nasa.gov.
\