Pick of The Week
Charged Filament (January 13, 2005)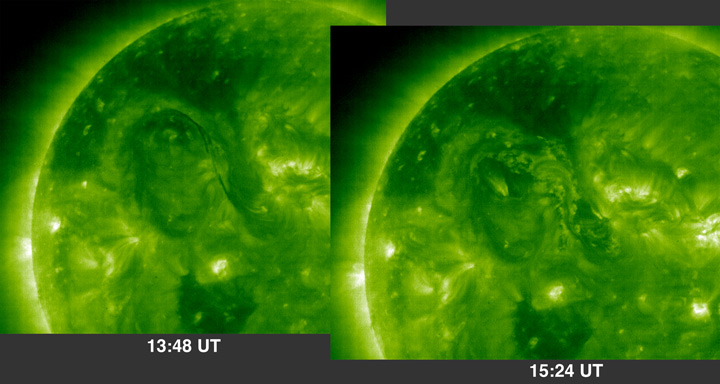 Hi-res TIF (2.6M)
Movies:
MPEG: 36-hrs very large (1024x1024, 4.7M), large (512x512, 1.3M)
QT: very large(1024x1024, 8.1M), large(512x512, 1.3M), small (256x256, 354K)

A very long solar filament (that appears as a dark, thin line shaped like an Omega or horseshoe in the upper left quadrant) suddenly erupted on January 5, 2005. The series of stills, taken by the EIT 195 instrument about an hour and a half apart shows this filament before and after its eruption. (Filaments are cooler, dynamic structures that coalesce and float" in the otherwise hot corona above the Sun's surface, sometimes for several weeks.) This particular prominence was over 70 times the diameter of Earth. If stretched out straight, it would reach more than half way across the Sun and more than the distance from the Earth to the Moon and back. 

What is most interesting here is that the filament, as is sometimes the case, does not break away or disappear. Instead, it expanded rapidly as though jolted with electricity, then maintained that shape, more or less, ever since up though January 11. The forces as work here, it should be noted, are primarily magnetic--not electric. Scientists admit that filaments are not well understood and there is much to be learned about them.

SOHO began its Weekly Pick some time after sending a weekly image or video clip to the American Museum of Natural History (Rose Center) in New York City. There, the SOHO Weekly Pick is displayed with some annotations on a large plasma display.

If your institution would also like to receive the same Weekly Pick from us for display (usually in Photoshop or QuickTime format), please send your inquiry to steele.hill@gsfc.nasa.gov.
\