Pick of The Week
A CME Trifecta (January 9, 2004)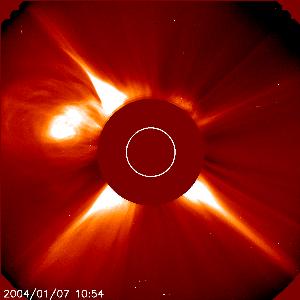 Hi-res TIF image (2.9M)
Movies:
MPEG: Large (507K), Small (181K)
Quicktime: Large (528K), Small (112K)
Over a period of about 34 hours, at least three solar storms (what we call coronal mass ejections or CMEs) blasted away from the Sun on January 7-8, 2004. In the LASCO C2 coronagraph frames, the first CME begins at about 4:30 UT on the 7th and heads down and to the left. The second follows suit a few hours after at 9:54 UT. Although there is one gap in the data, the third CME is in progress at 5:54 on the 8th, which also appears to originate from the same area, apparently Active Region 537. A CME is a solar storm that blasts billions of tons of particles into space at millions of miles per hour. The likelihood that these will have a strong impact on Earth is low since they are not aimed our way. Still, the active region will be rotating around to aim more storms towards Earth over the coming weekend...and is still growing.

Please visit our Newsroom for press releases and media coverage.

SOHO began its Weekly Pick some time after sending a weekly image or video clip to the American Museum of Natural History (Rose Center) in New York City. There, the SOHO Weekly Pick is displayed with some annotations on a large plasma display.

If your institution would also like to receive the same Weekly Pick from us for display (usually in Photoshop or QuickTime format), please send your inquiry to steele.hill@gsfc.nasa.gov.
\