Pick of The Week
Popping Off (July 8, 2005)
¨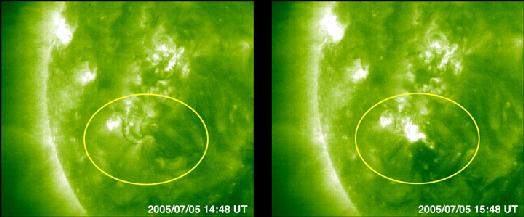 Hi-res TIF image (737K)
Movies:
MPEG: Large (4.1M), Small (1.1M)
Quicktime: Large (580K), Small (146K)
As often happens, both a flare and a coronal mass ejection (CME) occurred around 15:00 UT on July 5, 2005, nearly simultaneously. The flare can be observed as the area around Active Region 788 quickly brightens in a one hour period to a white point, then its intensity subsides, though the post coronal loops can be seen coiled over the area the rest of the day. A flare is a high-power energy release per unit time, a mostly radiative energy release event , and the most powerful storm in our solar system. On the scale for measuring flares this was an C-Class, somewhat of a lesser flare event. The video shows the full disk of the Sun in EIT 195 for the entire day. Note too that there is some eruptive activity in the lower right quadrant around 2:00 UT.

The CME was most probably associated with this flare. A CME is a lower power event because it occurs over a much longer time period, but carries lots of mechanical (kinetic) and magnetic (potential) energy). In fact CMEs blast out over a billion of tons of particles at millions of miles per hour. The CME, called a partial halo CME because from our perspective the material appears around most of the Sun as if in a halo, hurled a cloud of particles into space. The faint expanding cloud can be observed in both of the LASCO instruments (not shown here).

Please visit our Newsroom for press releases and media coverage.

SOHO began its Weekly Pick some time after sending a weekly image or video clip to the American Museum of Natural History (Rose Center) in New York City. There, the SOHO Weekly Pick is displayed with some annotations on a large plasma display.

If your institution would also like to receive the same Weekly Pick from us for display (usually in Photoshop or QuickTime format), please send your inquiry to steele.hill@gsfc.nasa.gov.
\