Hotshot
Solar Conveyor Belt Speeds Up


Artist's concept of the Sun's meridional circulation, a large scale flow that transports solar plasma from the equator to the poles and back like a giant conveyor belt. Credit: Science@NASA.

One of the outstanding questions facing solar physicists is the origin of the solar magnetic cycle: What drives the 11-year sunspot cycle? We have just passed an extended and deep minimum, unlike any in the past 100 years. The late onset of the new solar cycle (#24) and the unusually deep minimum between cycles 23 and 24 took all experts by surprise, which suggests that there is a fundamental lack in our understanding of the origin of the solar activity cycle.
The Sun's meridional circulation is a massive flow pattern within the Sun that transports hot plasma near the surface from the solar equator to the poles and back to the equator in the deeper layers of the convection zone, similar to a "conveyor belt". The flow is rather slow, with typical speeds of 10-15 m/s (20 to 30 mph). The structure and strength of this meridional flow is believed to play a key role in determining the strength of the Sun's polar magnetic field, which in turn determines the strength of the sunspot cycles. One class of dynamo models predicts that a stronger meridional flow produces weaker polar fields, whereas another class of models predicts stronger polar fields (and a shorter sunspot cycle) for the same flow.
Analyzing more than 60,000 full disk magnetograms registered by the MDI instrument on SOHO between May 1996 and June 2009, scientist now measured the latitudinal profile of this flow and its variations over a solar cycle by tracking the motions of small-scale magnetic flux concentrations, which are carried away by the meridional flow like leaves on a river. They found an average flow that is poleward at all latitudes up to 75 degrees, which suggests that it extends all the way to the poles. Perhaps even more importantly, they also found that the flow was faster at sunspot cycle minimum than at maximum and substantially faster on the approach to the current minimum than it was at the last solar minimum. This finding poses new constraints on solar dynamo models and may help to explain why the last solar minimum was so peculiar.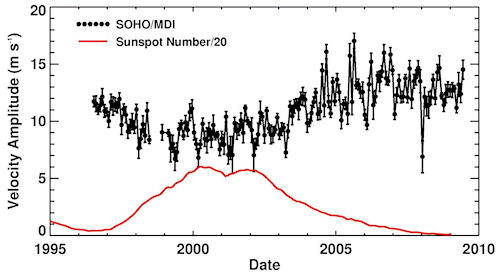 Meridional Flow variation from 1996 - 2009 as measured by SOHO/MDI. The scaled smoothed sunspot number is shown in red to indicate the phase of the solar activity cycle. Note the significantly higher meridional flow speed during the approach to the current minimum compared to the previous minimum (from Hathaway & Rightmire: 2010, Science 327, 1350).

Related Links