Pick of The Week
A week in the life of the Sun (September 25, 2002)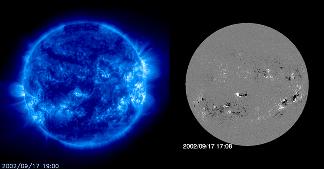 The images and video clip cover one week's solar rotation (an image per day) of the Sun for September 17-24, 2002 with two different kinds of images. On the left, the Sun's corona is observed in extreme ultraviolet light at 171Å. At right, we use magnetograms, which reveals magnetic activity on or near the surface of the Sun. Black and white indicates opposite magnetic polarities, like the opposite ends of a bar magnet -- the kind that produces patterns of iron filings. These look a lot like the coronal loops that we see in the ultraviolet image (left) which extend out from and back to the surface. In visible light the black and white areas would be seen as sunspots, which are the source for the strong coronal mass ejections that blast out from the Sun quite frequently.

SOHO began its Weekly Pick some time after sending a weekly image or video clip to the American Museum of Natural History (Rose Center) in New York City. There, the SOHO Weekly Pick is displayed with some annotations on a large plasma display.

If your institution would also like to receive the same Weekly Pick from us for display (usually in Photoshop or QuickTime format), please send your inquiry to steele.hill@gsfc.nasa.gov.
\